Modular & Compact Electric Ball Valve Actuator
Introducing the Smart Electric Ball Valve Actuator
The team at Gemini Valve is excited to announce an innovative addition to our electric ball valve actuator line. Our new smart electric actuator provides OEMs and end users across a wide range of industries with a compact, customizable solution for increased automated systems control.
Built on the foundation of our industry-leading Performance Automation Series electric actuators, this electric actuator can control the position of a ball valve with much greater precision than a traditional electric ball valve, and is rendered even more effective when powering a V-port ball valve. An advanced microprocessor provides positional feedback and enables dynamic flow control based on user input. The actuator can be programmed to cycle to as many precisely calibrated positions as are required by the application. The cycle speed can be adjusted to be as fast as 2.7 seconds, or slowed down to avoid potential application issues like water hammer.
The actuator can also be made compatible with a large variety of input control and feedback signals. Best of all, these functions can be quickly and easily programmed after the actuator has been fully assembled, making production extremely cost effective and lowering lead times.
A product like this opens up new doors for our current and future customers. The modular design — a Gemini first — is indicative of our approach to customer service: To consistently deliver high quality, innovative, rigorously tested products that satisfy most  customer requests while maintaining competitive factory direct pricing.
With over 50 years of experience manufacturing and supplying ball valves for a wide variety of customers and applications, Gemini Valve is no stranger to innovating for our clients. Our standard product line meets the needs of most customers, but occasionally an OEM client will approach us with a custom request. After decades of delivering customized solutions on a case-by-case basis, we came to recognize and understand the importance of offering our customers as much customizability as possible. However, as a total manufacturer, we also understand the importance of keeping costs and lead times down.
Due to its standard base design, we can maximize production efficiency with this actuator, completing any customization as the last step. As a standard on/off actuator, this unit is available off-the-shelf with basic voltage control. If the application requires any specific cycle speed or positional control customization, a custom program is then flashed onto the microcontroller to accommodate these requirements.
If a customer identifies a need for customization after purchase and installation, they can return the actuator for an in-house update to the program. We are equally capable of taking on larger and more complex requests, and strive to meet or exceed our customers' expectations for turnaround.
If you'd like to learn more about the design or capabilities of our new modular smart electric ball valve actuator, reach out to the Gemini Valve team today. Let's see what we can build together.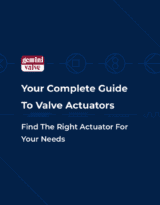 Your Complete Guide To Valve Actuators
A comprehensive introduction to valve actuators, covering power sources, failsafes, questions to ask and more.
Download