Ball Valve Product & Supplier Considerations for OEMs
A quality ball valve provides quick actuation with positive on/off control for a variety of medias. These are available as manually actuated with a variety of handle configurations to meet space limitations or to interconnect with linkages and/or other devices. Additionally, for those applications requiring automated control, both pneumatically actuated and electrically actuated ball valve models are available. As you may be aware, as an original equipment manufacturer (OEM) it's important to specify products that will meet your application requirements and to partner with a supplier who understands your industry and can meet your expectations.
We've listed a couple of questions that should be taken into consideration for both product and supplier selection.
Product Considerations
1. Does the valve specifications meet or exceed the media requirements relative to material compatibility as well as pressure/temperature ratings?
Although a basic consideration, be sure that all the valve 'wetted' components are compatible with your specific media. Ball valves generally use elastomers such as Viton®, Buna-N and/or P.T.F.E. (Glass Filled Reinforced Teflon®) or a combination. P.T.F.E. is popular in that it's generally considered chemically inert. In other words, your media and the seal material co-exist — one not degrading or interacting with the other.
When evaluating valve pressure rating, it's important to check the valve pressure rating relative to the temperature rating. This is commonly referred to as the valve pressure/temperature rating. See example below:

As the valve pressure rating rises, the valve temperature rating becomes lower. Be sure you compare your media pressure and temperature together to ensure both will meet your application needs.
Lastly, especially when specifying an automated ball valve, is to ensure that your pressure differential is within the product ratings. The pressure differential (PSI) is the upstream pressure less the downstream pressure. For example, 400 PSI upstream pressure less 100 PSI downstream pressure equals 300 PSI pressure differential.

Most ball valves incorporate what is referred to as a 'floating ball' design. The ball is connected to the valve stem via means of a slot in the top of the ball. This slot enables the ball to move or float slightly in the direction of flow when the valve is in the closed position.

As the pressure differential increases, so does the operating torque of the ball valve. The operating torque of the ball valve is the amount of force required to open/close the ball valve. Accordingly, the actuator needs sufficient torque output to meet/exceed the torque requirements of the ball valve.

Many suppliers require you to determine the valve torque requirements and match an actuator with sufficient torque output with a safety factor. Others, including Gemini Valve, match valve to actuator models for you. All you need to do is confirm your pressure differential is within the specific product ratings.
2. Does the product life expectancy equal or exceed the target life of the intended application?
Most suppliers will not guarantee a specific life expectancy in that each application has subtle differences that can impact longevity. For those suppliers who offer a guarantee or warranty, be sure to understand what remedy will be made in the event of premature failure. Traditionally for actuated ball valves, the valve itself is subject to the most wear whereas the actuator (either electric or pneumatic) may be able to host several ball valves before replacement.
In general, ball valves will yield tens of thousands of cycles that are application dependent, whereas actuators yield hundreds of thousands of cycles. Traditionally, pneumatic actuators will generally yield significantly more cycles than electric actuators. Gemini Valve partners with OEMs to gain knowledge of their specific application parameters. We then assist in mating the correct product selection based upon your target life expectations.
Supplier Considerations
1. Is the supplier a reseller who relies on support and delivery from one or more manufacturers globally, or is the supplier a domestic manufacturer selling direct?
In today's global marketplace, with respect to suppliers of automated ball valves, most are simply resellers who source ball valves and actuators from multiple manufacturers — most of which are located overseas. While ball valve manufacturing was once 100% domestic, originating in Worcester, Massachusetts, today only a handful of domestic manufacturers remain. If you're unable to work with a manufacturer directly, please be sure to take in the following considerations:
Once you've selected and subsequently tested a product to ensure it meets your expectations, ensure your supplier does not make any changes in the design or construction without notice. Subtle changes can negatively impact product performance. This can be further compounded for suppliers who source the ball valves and actuators from different manufacturers. When a problem occurs, the products may still be within their published specifications but may not function identically when paired together. Ideally, partner with a supplier who offers both the valve and actuator from the same manufacturer as well as any related accessories. One strategy to avoid future problems is to enter into a Business Relationship Agreement which requires your supplier to provide notice of any change in design or manufacturing along with a remedy for non-compliance.
As an OEM, reliable, on-time delivery is essential in that one missing component can stop your production dead in its tracks. Today, many OEMs utilize JIT (Just in Time) inventory management methodology. Also known as the Toyota Production System, JIT is a common inventory management technique and a type of lean methodology designed to increase efficiency, cut costs and decrease waste by receiving goods at the same rate of actual production needs. In selecting a supplier, ensure they are carrying sufficient inventories to meet your needs. If you're able to deal directly with a manufacturer, ask them to carry finished inventory and raw materials to ensure continuity of supply.
2. Is the supplier well established?
A supplier who has been in business for many years is usually a reflection of success in the products and services they offer. It's also an indication that they'll be around to support your company and their products. A quick way to answer this question is to visit the suppliers' website and look for About Us or Company History.
3. Can the supplier modify existing product designs or jointly create new designs to best meet the application requirements?
Since most OEMs are forced to procure product through a manufacturer's reseller (i.e. very few manufacturers will sell direct) ensure any modifications to products are warranted by the supplier or manufacturer. If you can't find the exact product to meet your application requirements, seek out a manufacturer who offers design, prototype and manufacturing capabilities. In doing so, they may customize a valve solution with only the features required for your application. This also keeps the cost competitive.
While these are only a few product and supplier considerations for OEMs seeking automated or manual ball valves, they are important ones. Gemini Valve is a total manufacturer, that has been catering to the needs of OEMs for over 40 years. We welcome the opportunity to be of service to you. Contact us today!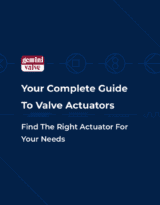 Your Complete Guide To Valve Actuators
A comprehensive introduction to valve actuators, covering power sources, failsafes, questions to ask and more.
Download