Piping Codes | ASME Valve Standards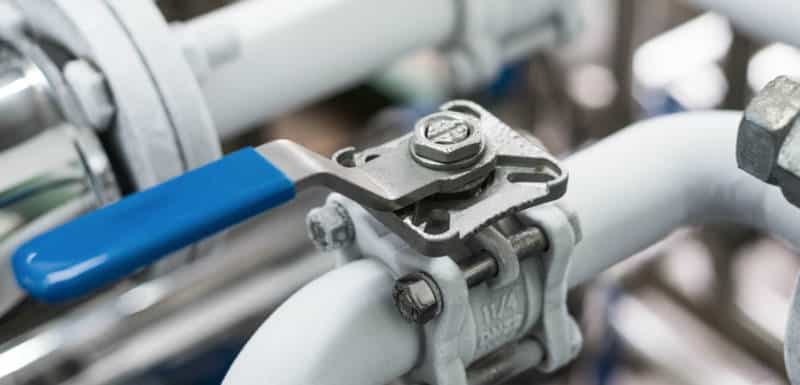 Like many industrial and commercial systems, valves and piping systems need to adhere to certain standards to remain effective, safe and compliant. Piping codes adhere to standards set and controlled by the American Society of Mechanical Engineers (ASME). Anyone responsible for the design, operation and maintenance of piping systems should be familiar with these standards, or have easy access to them.
Below you'll find a list of the most common ASME piping and valve standards and their applications.
ASME Piping Codes & Valve Standards
This code denotes the standards for the manufacture and use of cast, forged, and fabricated flanged, threaded, and welding end (and wafer or flangeless valves made of steel, nickel-base alloys, and other alloys) in high-pressure and high-temperature applications, such as boilers and water heaters. It's most often used in new construction, as opposed to existing construction updates.
Who uses it?
Used by valve manufacturers, as well as anyone concerned with the purchase, maintenance, training and safe use of valves within pressure equipment.
What is it for?
ASME B16.34 pertains to:
measuring pressure-temperature ratings, dimensions, tolerances
new construction
nondestructive examination requirements
rating materials
testing
When is it used?
With equipment described in the ASME B16 Series of Standards, as well as with the Boiler and Pressure Vessel Code and other ASME B31 piping codes.
This code applies specifically to valves in heating and cooling power station systems, such as electrical and geothermal power generators. B31.1 is one of the ASME's most-requested codes, as it applies to boiler and pressure vessel systems worldwide. It should be used alongside the ASME's Process Piping Code.
Who uses it?
Used by power piping system manufacturers, designers, operators and owners.
What is it for?
ASME B31.1 specifies the following minimum system requirements for power piping:
design
erection
examination
fabrication
inspection
maintenance
materials
operation
testing
This standard is for piping systems found in:
central and district heating and cooling systems
electric power generating stations
geothermal heating systems
high-temperature, high pressure water boilers
industrial and institutional plants
power boilers
When is it used?
As a companion to ASME's B31.3 Code on Process Piping, plus other codes in ASME's B31 series.
Anyone involved in the manufacture and maintenance of process piping should use this code, including those in the chemical and petroleum refinery industries. It should be used in tandem with the ASME's Power Piping standard. Along with the Power Piping code, B31.1 is one of the ASME's most-requested codes.
Who uses it?
Process piping manufacturers, users, constructors, designers. Also, anyone else concerned with the fabrication, assembly, erection, examination, inspection and testing of process piping.
What is it for? 
ASME B31.3 applies to process piping materials and components, design, fabrication, assembly, erection, examination, inspection and testing. Specifically, it applies to piping found in:
chemical plants
cryogenic plants
paper plants
petroleum refineries
pharmaceutical plants
semiconductor plants
textile factories
other processing plants and terminals
Piping in these industries can be for:
cryogenic fluids
fluidized solids
gas, steam, air and water
petroleum products
raw, intermediate and finished chemicals
refrigerants
When is it used?
Used as a companion to ASME's B31.1 Code on Power Piping, plus other codes in ASME's B31 series.
This code applies to piping systems that transport liquid or nonhazardous aqueous slurries between production facilities and receiving terminals. Nonhazardous aqueous slurries include coal, mineral ores and concentrates.
Who uses it?
Used by liquid pipeline designers, owners, regulators, inspectors and manufacturers.
What is it for?
ASME B31.4 is used in piping systems for:
carbon dioxide
liquid alcohol
liquid anhydrous ammonia
liquid petroleum products
aqueous slurries of nonhazardous materials
The standard also includes requirements for the design, materials, construction, assembly, inspection, testing, operation and maintenance of liquid pipeline systems in:
above- or below-ground storage facilities
ammonia plants
marine, rail, and truck terminals
natural gas processing plants
pump stations
refineries
tank farms
When is it used?
In tandem with other ASME B31 standards to comply with operational and safety regulations governing liquid or aqueous slurry piping systems.
This standard applies to any piping system within the gas transport or distribution industry. Updates to these standards also apply to training of operational personnel.
Who uses it?
Gas pipeline manufacturers, users, constructors, designers and operation, maintenance and regulatory personnel.
What is it for?
Piping systems for gas transmission and distribution, including:
gas pipelines
gas compressor stations
gas metering and regulating stations
gas mains
service lines up to the outlet of the customer's meter
gathering pipelines, including offshore
gas storage equipment and lines
When is it used?
As a companion to the other ASME B31 codes, B31.8 regulates piping systems materials, design, fabrication, assembly, erection, testing and inspection. These codes help users comply with safety measures and save on operational costs.
Valve & Piping Standards Organizations
In addition to ASME, there are multiple other organizations that govern valve and piping standards for various industries.
API Valve Standards
The American Petroleum Institute establishes standards for the worldwide oil and natural gas industry, and has developed over 700 standards that govern safety, sustainability and environmental impact.
ASHRAE Valve Standards
The American Society of Heating, Refrigerating and Air-Conditioning Engineers governs the global standards for heating, cooling, refrigeration and indoor air quality systems.
ASME BPVC Valve Standards 
A subset of the ASME standards, the Boiler & Pressure Vessel Code should be used in tandem with all other ASME codes related to high-pressure, high-temperature piping systems.
ASSE Valve Standards
The American Society of Sanitary Engineers governs standards pertaining to plumbing and sanitation systems, which are developed and revised under the American National Standards Institute (ANSI).
AWWA Valve Standards
The American Water Works Association sets the standards for all areas of water treatment and supply.
ISA Valve Standards
The International Society of Automation is the global governing body of standards for automation and control systems in manufacturing or production processes.
NFPA Valve Standards 
The National Fire Protection Association sets standards that reduce the risks and mitigate the effects of fire and chemical hazards.
SAE Valve Standards
The Society of Automotive Engineers is the global governing body for all standards related to the transport industry, including automobile and aerospace.
How to Ensure ASME Valve Standards Are Met
Engineers with an application that meets any of the above ASME standards should take care to ensure the valve they select is compliant. If you are unsure of the standards or certifications required for your applications it is always best to reach out to the valve manufacturer directly for help selecting the best valve for your application.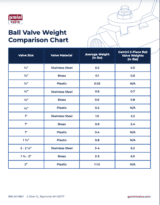 How does valve weight impact your piping systems?
Gain heavy duty Insights on ball valve weight with our downloadable chart.
Download