NSF Valve Certifications: NSF 61 vs NSF 372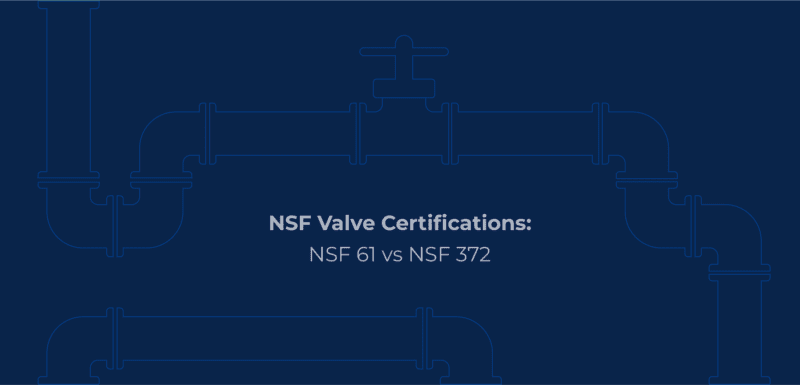 Across industries, regulatory standards are put in place to ensure the safety of products and services. In 1944, the National Sanitation Foundation was founded as a non-profit to set health and safety guidelines for consumer products. Now known as NSF, the organization provides safety certifications for a broad range of products, including dietary supplements, water filters, dishwashers, plumbing components, pool equipment and more.
Depending on the nature of the application, commercial valves may be required to meet certain standards and certifications. These valves are often used for food and water processing and are required to meet more rigorous standards for health, safety and environmental protection.
According to the EPA, certain levels of lead and other metals in drinking water systems can cause cardiovascular effects, decreased kidney function and reproductive problems among adults, as well as behavior and learning problems, lower IQ and hyperactivity, slowed growth, hearing problems and anemia in children. Because of these potential ramifications, valves used in drinking water or food service applications need to be NSF-certified.
Read on to learn more about the NSF certification process, important certifications related to commercial valves and when NSF certification is needed in your valve systems.
What Is NSF Certification?
When a product is NSF-certified, consumers can rest assured that in producing the product, the company complies with the strict requirements established and enforced by NSF. These procedures include comprehensive product testing and material analysis, impromptu plant inspections and other relevant evaluations that ensure a product meets NSF's health and safety standards.
Gaining NSF certification is not a one-time event, but rather is an ongoing process of continuously meeting certification requirements. From routine on-site visits to re-testing products, NSF monitors its certified products to ensure their continued safety and compliance. In the event that a product does not meet the certification criteria, NSF takes swift action to notify the public, recall products or initiate decertification.
You can identify which products are NSF-certified by the product packaging. Items that gain NSF certification are labeled as "NSF Certified" or "NSF Listed" and include the appropriate NSF certification mark. This stamp of certification indicates that the product has been tested by an independent product testing organization.
When it comes to valve systems, there are two NSF certifications commonly used to designate valves and their components as being safe for consumers: NSF 61 and NSF 372.
NSF 61
According to the NSF, NSF 61 "is an American National Standard that establishes minimum health-effects requirements for the chemical contaminants and impurities that are indirectly imparted to drinking water from products, components and materials used in drinking water systems."
This certification is meant to cover those materials or products that may come into contact with drinking water and drinking water treatment chemicals.
Products and materials covered by NSF 61 certification include:
Protective barrier materials (cements, paints, coatings)
Joining and sealing materials (gaskets, adhesives, lubricants)
Mechanical devices, including treatment products (water meters, valves, filters)
Pipes and related products (pipes, hoses, fittings)
Plumbing devices (faucets, drinking fountains)
Nonmetallic portable water materials
NSF 372
Unlike NSF 61, NSF 372 addresses lead content only. NSF describes this certification as an American National Standard that "establishes a standardized methodology for the determination and verification of product compliance to minimize lead contaminants."
This certification meets the requirements set forth by the United States Safe Drinking Water Act (SDWA) and lead-related standards set by individual states such as California.
The NSF/ANSI/CAN 372 standard includes:
A maximum weighted lead content requirement of 0.25% (0.2% for solders and fluxes)
A formula for calculating the weighted average lead content of each product before testing
Distinct protocol for testing products for lead content
Products and materials covered by NSF 372 certification include:
How And When Does NSF Certification Apply To Valves?
Valves are commonly used in systems and processes that involve food, beverage, and drinking water applications. Any valves/fittings being used in drinking water systems must be certified as meeting NSF 61 and/or NSF 372. These designations ensure that your products comply with the necessary regulations to prevent harm to consumers
Once an NSF valve is certified, the process does not stop there. You will need to ensure that your NSF valves continue to meet the rigorous standards over time in order to remain NSF-certified. Keep in mind that NSF-61 valves include standards for many different materials, while NSF-372 valves pertain to lead only.
Who Needs NSF Certifications?
In general, any products or services that involve close human contact must meet the health and safety standards required by NSF.
The following consumer-facing industries typically require some kind of NSF certification:
Commercial food service products

Water fountains, refrigerators, pots, pans, etc.

Water systems and products

Bottled water
Municipal water systems
Pools and spas
Plumbing products
Water treatment systems

Supplements
Food and beverage products with label verification
How Do Organizations Get Valves NSF Certified?
For companies to have their valves designated as NSF-certified, there are seven steps that must first be taken. The NSF certification process includes the following:
Application and information submission
Product evaluation
Product testing in lab
Manufacturing facility inspection, production confirmation and product sampling
Test results review and acceptance
Contract signed and products listed
Annual plant inspection and retesting
All NSF certification requirements are included in the contract, which implements a legally-binding basis for product certification. Once a valve is certified by NSF, it can be NSF marked or listed that way on its packaging.
NSF valve certification is necessary for meeting the health and safety standards that protect consumers from harmful materials like lead. Ensuring that your valve systems are NSF compliant not only helps keep consumers safe but also helps your company establish greater credibility and transparency.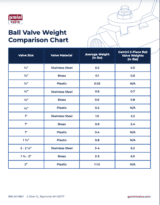 How does valve weight impact your piping systems?
Gain heavy duty Insights on ball valve weight with our downloadable chart.
Download