Ball Valve Actuator Types: Manual, Pneumatic, Electric & Hydraulic
Choosing the right type of valve actuator is crucial for operational efficiency. By using the appropriate power source for your application, you can reduce maintenance expenses, increase uptime and maximize safety.
In this article, we explain the operation of manual, pneumatic, electric and hydraulic actuators, as well as the requirements and considerations to make before selecting a power source.
Read on for the details:
Key Considerations of Pneumatic Valve Actuators
Power Source: Pneumatic actuators require an air supply of 60 to 125 PSI.
Speed: To open or close the valve, pneumatic actuators take 1⁄2 a second to 1 full second, depending on the model.
Duty Cycle: Pneumatic actuators have cycles (on/off) of 1,000,000 +/- when used within specifications.
Safety Features: Spring-return and failsafe options are widely available for pneumatic actuators.
Electric Actuators
For facilities or applications without access to pressurized air, electric actuators are recommended. Also known as motorized valve actuation, this option uses a motor and voltage to power a valve.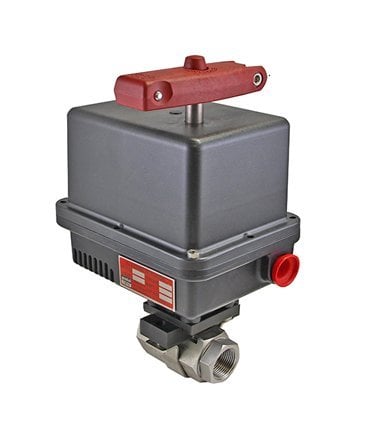 Most electric valves have slower index times compared to pneumatic. For applications with high velocity or pressure, electric actuation can prevent water hammer. Rotary and linear options are available to electric actuators.
Key Considerations of Electric Valve Actuators
Voltages: Most commonly, motors are supplied in 120AC, 24DC and 12DC voltages. With a voltage supply, the motor engages a gear train to produce the necessary torque to cycle the ball valve.
Duty Cycle: Electric actuators have cycles of 250,000 +/- but this is application dependent.
Speed/Torque Options: Most electric actuators take approximately 6 seconds to open/close the valve. The exact time will depend on the gearing and size of the actuator body.
Protection Ratings: The National Electrical Manufacturers Association (NEMA) sets guidelines for the use of electric products in certain environments. Below are four of the most common ratings for electric actuators:

NEMA 4: Weatherproof, for indoor and outdoor use. This rating defines the necessary protection needed against water, dirt and ice.
NEMA 4X: This rating follows the NEMA 4 guidelines with added protection from corrosion.
NEMA 6: For submersible use in water, quarries and mines. The exact design depends on the specific pressure and time the product is submerged.
NEMA 7: For indoor use in hazardous areas. This rating means products are capable of withstanding pressure from internal explosions.
Hydraulic Actuators
Hydraulic actuators are similar to pneumatic devices, only they use pressurized fluid instead of air or gas. The fluid — either water or oil — is fed to one or both sides of a piston to create movement. Hydraulic actuators can power both linear and rotary valves, and are most commonly used for offshore and upstream applications.
There are two different types of hydraulic actuators:
Single-Acting: Pressurized fluid actuates the valve in one direction. A compressed spring actuates the valve in the other direction.
Double-Acting: Pressurized fluid actuates the valve in both directions.
Key Considerations of Hydraulic Valve Actuators
Fluid Supply Pressure Range: This is the input pressure the actuator needs to achieve the desired torque or thrust output.
Gemini Valve is here to help you find the right ball valve actuator for your application. Contact us to get started.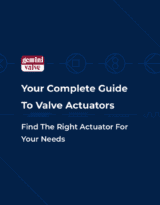 Your Complete Guide To Valve Actuators
A comprehensive introduction to valve actuators, covering power sources, failsafes, questions to ask and more.
Download